Have the ultimate weekend getaway at this peaceful location. This two bedroom guesthouse with amazing redwood paneling  is set back from the main house, allowing a secluded area with all the benefits the property has to offer. 
The Redwood Guesthouse
Have the ultimate weekend getaway at this peaceful location. This two bedroom guesthouse with amazing redwood paneling  is set back from the main house, allowing a secluded area with all the benefits the property has to offer. 
This newly renovated, two-bedroom, one-bathroom guesthouse is a perfect place to spend a relaxing vacation with your loved ones. Redwood paneling on the walls adds to the charm of this cozy place. With the open kitchen – dining area, enjoy cooking up a meal and sitting at the stylish dining table.
There is a Smart Flat Screen TV as well as Alexa for music. You can also access the free WiFi to keep in touch or check your email.
You can also use the large slide door to enter the private garden area next to the guesthouse. Sit on the lounge chairs in the garden and sip some wine or cocoa while watching the sun set or walk down to the lake front along a small trail. At the lake front, you can jump into the lake for a swim or take your SUP to access the lake.
When it's time to head to bed, you will find one king size bed in the master bedroom and one queen size bed in the smaller bedroom.  
 Up to 4 guests will have places to sleep soundly and rest up for another day of exploring the lake.
      Highlights
Sleeps 4

750 square feet (70 square meters)

Master bedroom with king-size bed

Small bedroom with queen-size bed

Living room with love seat and green velvet accent chairs

Full kitchen with range, microwave, coffee machine, electric griddle, mixer, dishwasher

Private garden area in back with FANTASTIC LAKE VIEW

Boat dock to use for fishing, swimming or to tie up your own boat

Smart TV for viewing Netflix, Amazon Prime

Amazon Alexa for music

Bed linens and towels are provided

Internet WiFi access
Smart TV equipped for streaming, Amazon Alexa for music, Wifi, complimentary toiletries, towels & linens provided, and more.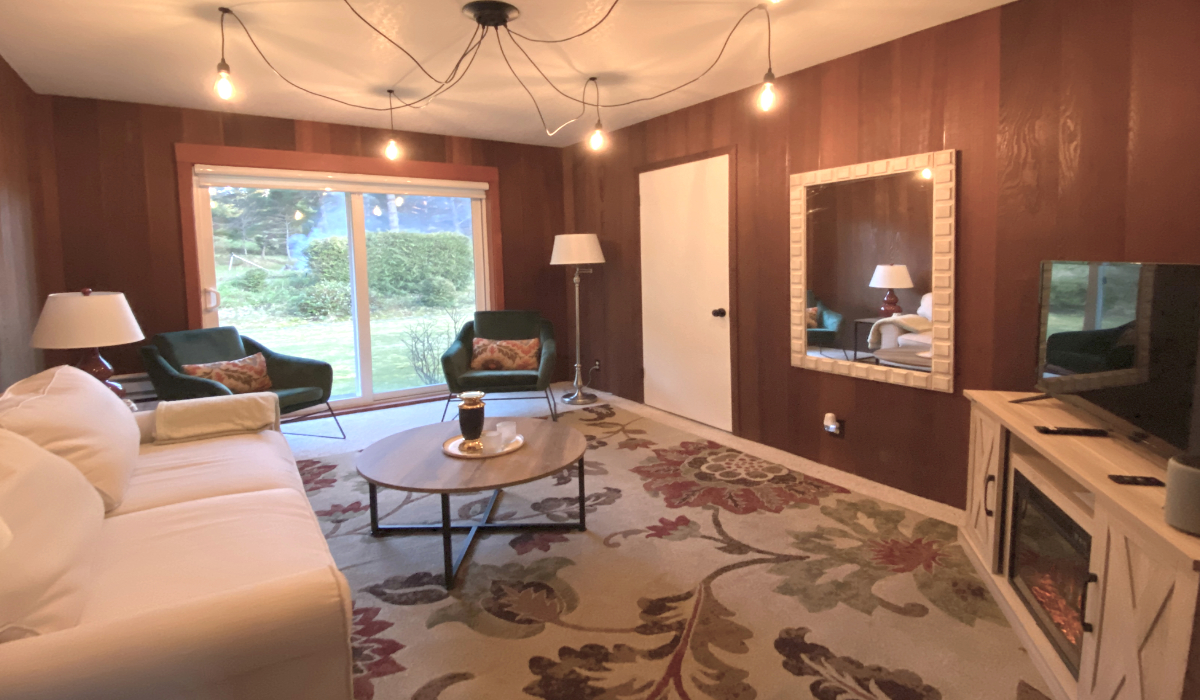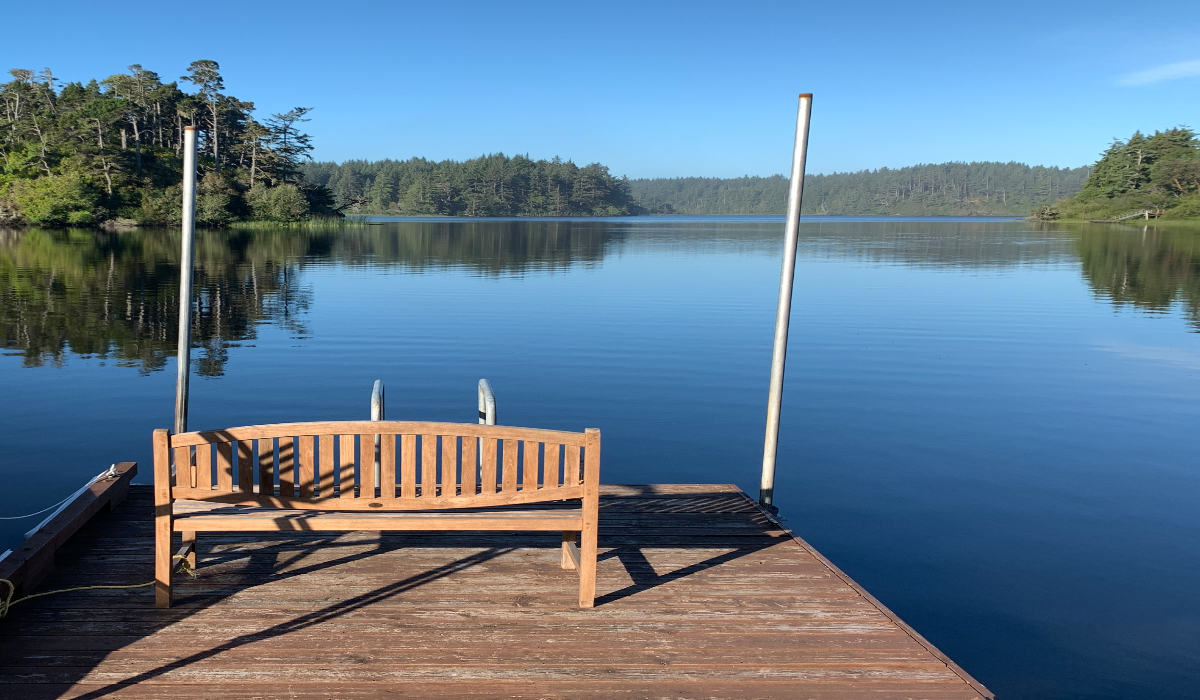 Great place, exactly as stated online, and very communicative when needed. I highly would recommend staying here.
Christiane's place is outstanding! Super cute, clean and exactly as described. We highly recommend.
Beautiful home and amazing lake. Just make sure u get some food and it's a bit remote.
Such a lovely location! We had a wonderful time in this peaceful, tranquil spot. An ideal stay to enjoy seclusion near Bandon and surrounding towns.
Perfect gateway for 4 people, very clean, modern, lakeview, close by beach access. Home away from home! Morning peacefulness by the lake at its gratest!
This place is truly special – the property, lake and incredible sunset & sunrise! We stayed in the guest house one the first night of a road trip and it was a perfect way to start our trip. Peaceful and serene natural area, access to kayaks and SUPs, kids life jackets, etc. Cannot wait to go back and stay longer!
If you are looking for a peaceful and relaxing get- AWAY, this is it! Christiane's place is located in a wonderful setting right on the lake. Having coffee in the morning in the garden area was so peaceful. It's perfectly clean and cozy. Even with a main house and other apartment, you are still afforded privacy in this guesthouse. Crystal was on hand to answer any questions for us and even able to drop off some extra necessities we needed. We would definitely come back and highly recommend this place.
We loved our stay at Christiane's cabin. The lake is so beautiful and we got lucky with a sunny October day to sit outside with a glass of wine and enjoy the view. The cabin was spotless and well stocked, the beds are comfortable and the rain shower was amazing!! We would definitely come back.
Wonderful place to stay. So peaceful and quiet! Me and my family loved it!
Great location and very pleasant retreat!
This was the perfect place for us to stay while on the southern Oregon Coast. The location is quiet and serene, green, rural, and remote yet only 4 miles from the town of Langlois (which is also green, rural, and remote, but that's precisely why we chose this area). The lakefront site is spectacular. The walk to the beach is about 20 minutes along a quiet road through the woods. The beach stretches for miles and you might encounter 3 or 4 people while you are there. There were 3 of us in the guesthouse and it was plenty roomy. It was clean, well maintained, and stocked with all the basic necessities. We prepared most of our meals there and the kitchen fully suited our needs. The grounds and landscaping are beautiful, spacious, and well maintained. The only aspect of our time there that was difficult was having to leave.
Absolutely beautiful location. Love that kayak and sup rentals are available. Great communication. Christiane goes above and beyond to have resources available and everything laid out very clearly. The smaller bedroom only has room to walk around the bed, not much room for belongings or suitcases. Would stay here again!
Cozy space with great amenities. It's an easy walk right down to the lake. Walking to the beach is a little longer and along a somewhat busy road without much shoulder but well worth it. We enjoyed watching the kite and wind surfers at the edge of the lake. Though you are close to the main home, there is no shared wall so makes for a very quiet space!
Easy check-in and great communication. Would stay again.
The location is beautiful, though it is quite remote. We knew we wouldn't be very close to any stores, but we did not know that the closest store closes at 5. The space itself was smaller than it looks in photos, but comfortable and worked well for our group of 4. The amount of rules listed didn't give a very welcoming feeling. It felt more like an expensive hotel with a great location than a home. If I were to come back, I would definitely spend the extra money for the main home, which is right on the lake.
It's a lovely location right on the lake but behind one other house. Very relaxing place to stay.
We had a great time here. The kids had a blast running around on the big lawn while the adults kicked back and enjoyed the view.
Clean comfortable accommodations and an excellent location on Floras Lake.
Great access to a beautiful lake. Nice Outdoor sitting area. Excellent communication, check-in and check-out.
Great location and the hosts were super helpful and responsive. Highly recommend!
This place had everything we needed for a comfortable stay. Lots of detail was put into this place for renters. The owners responded quickly to our questions and we have no complaints!
Absolutely breathtaking location
Beautiful view right on Floras Lake. Sweet spot for a getaway with the family!
Well equipped, cozy escape in an exceptional setting. The lake was serene and peaceful, and location was well away from traffic.
We had a wonderful time staying in the Redwood Guesthouse. The space is comfortable, the location is great, and there were lots of useful little touches and local recommendations. What a wonderful spot on the Oregon coast!
Very clean, beautiful property and place. Would go back again.
We enjoyed our stay. Everything was as described. Clean, spacious and very nice. Thanks
Great place, well provided with most of the amenities needed for a few nights, wonderful gardens and great view of the lake.
Peaceful location, no road noise, tranquil, nicely updated and beautifully manicured, all the essentials, and a very nice hot shower.
Lovely spot right on the lake
Such a cool place. Swimming off the dock, fishing, ocean, wildlife safari, close to Bandone. Great spot.
Christiane was very welcoming and helpful. We feel right at home. The house is really clean and organized. The kitchen equiped with everything we need to make a meal. The view of the Floras Lake is beautiful and we able to do some water sport out on the lake. And the private garden is perfect for sitting down with a glass of wine. We will be back!
Had a great stay! It was stormy so we didn't get to explore the lake and beach, but it looks beautiful, so hope to return in the future. Cozy space and nice kitchen. Rain shower head is a treat.
Christiane's guesthouse is super cozy and in a fabulous location! The house was super clean. The beds were very comfortable, the shower was hot and relaxing, the heater kept the house nice and warm, the kitchen was well equipped, and the welcome binder and little notes throughout home were very helpful for our stay and during our check in/check out process. Christiane provides a detailed description on how to find the house and where to park (with pictures and everything). The location of the house is fantastic and extremely peaceful and serene. The lake and trees are stunning. You can enjoy a hot cup of coffee with a great view and fresh air. You can fish on the dock and paddle board/kayak right from the property. About two minutes away is a great location for windsurfing/kitesurfing/wing foil. The only bad thing about our stay was that we planned it last minute so we were only able to book two nights. We will definitely be coming back!!!
Considering the lovely tranquility of the immediate area and the richness of the surrounding region, Christiane & Crystal could have gotten away with marketing a shack as a beautiful getaway. They didn't do that.

The condition of the house was excellent; very clean, with artfully modernistic touches to the decor & facility. The dock area provides a ideal place to relax. Beyond that, in our direct interactions with Christiane & Crystal, they were always prompt and helpful in their suggestions for the house and touring the region. The written guide for the house was thorough and gave excellent ideas for touring this part of the Oregon coast – and I highly recommend Cape Blanco, from Needle Rock to the Elk River mouth during low tide.

Altogether, we had experience that can't be replicated; only appreciated and built on.
beautiful and so close to the beach.
We had a great time at this cute little guest house. We were able to take advantage of the kayak rentals, and we had a great time fishing off of the dock. We caught about 6 fish in an hours worth of time. Great location too!
Wonderful getaway with lots to do in the area. This home is beautiful and full of nice touches that made our stay easy! Wonderful to have both a lake and the beach nearby.
Christine's guest house is perfect! We only stayed one night due to our short trip, but wish we had been able to stay longer. The house is clean and beautifully decorated, beds are comfortable, and the location next to a lake is lovely and peaceful. We will definitely return for a longer stay in the future!
It was just what we needed!
The cottage was so well appointed, cozy and refreshing to spend two nights in. The host, Christiane, was more than responsive and took care of any flexible needs as soon as they were asked. Can't wait to come back to this area and stay here again!
Location has a relaxing rural feel, while the inside is modern, clean, and fun. Super friendly hosts and it had everything we needed. Enjoyed a paddle on the lake in a kayak we rented from Christiane. Got soaked from paddle drips but still had fun!
This place is pretty spot on for its pictures and amenities. Having a full kitchen is huge, especially like our weekend with bad weather and with covid there's not many options to eat indoors. With the rivers, lakes, and the ocean. A weekend is too little time to explore the local area. Redwood Guesthouse will be an easy choice for future trips.