The Apartment at the Floras Lake Getaway
Come experience quiet solitude by the water at this remodeled, stylish apartment right on the shore of Floras Lake. You're sure to enjoy the stunning lake view through a large window facing the lake or from while sitting in lounge chairs on the decking in front. 
Bedroom with 2 queen beds
Bathroom with double sink and walk-in rainshower
Living area with view of the lake
This one-bedroom, one-bathroom apartment is a perfect place to spend a relaxing vacation with your loved ones. Have a seat at the dining table in front of the large window and admire the view of the lake. Sit on the lounge chairs on the outside deck and sip some wine or cocoa while watching the sun set.
There is a brand new 50 inch 4K TV equipped with Netflix streaming and more. You can also access the free WiFi to keep in touch or check your email.
You can also sit in the private garden area next to the apartment or walk down to the lake front along a small trail. At the lake front, you can jump into the lake for a swim or take your SUP to access the lake.
When it's time to head to bed, you will find two queen size beds in the spacious bedroom.
 Up to 2 adults and two children will have places to sleep soundly and rest up for another day of exploring the lake.
      Highlights
Sleeps 2 to 4

700 square feet (65 square meters)

FANTASTIC LAKE VIEW from Living room and Porch

Private lawn area in front of apartment

200 ft of lake front with full southern exposure

private boat dock to use for fishing, swimming or to tie up your own boat

Kitchenette for basic cooking

50″ 4K Smart TV

Bed linens and towels are provided

Internet WiFi access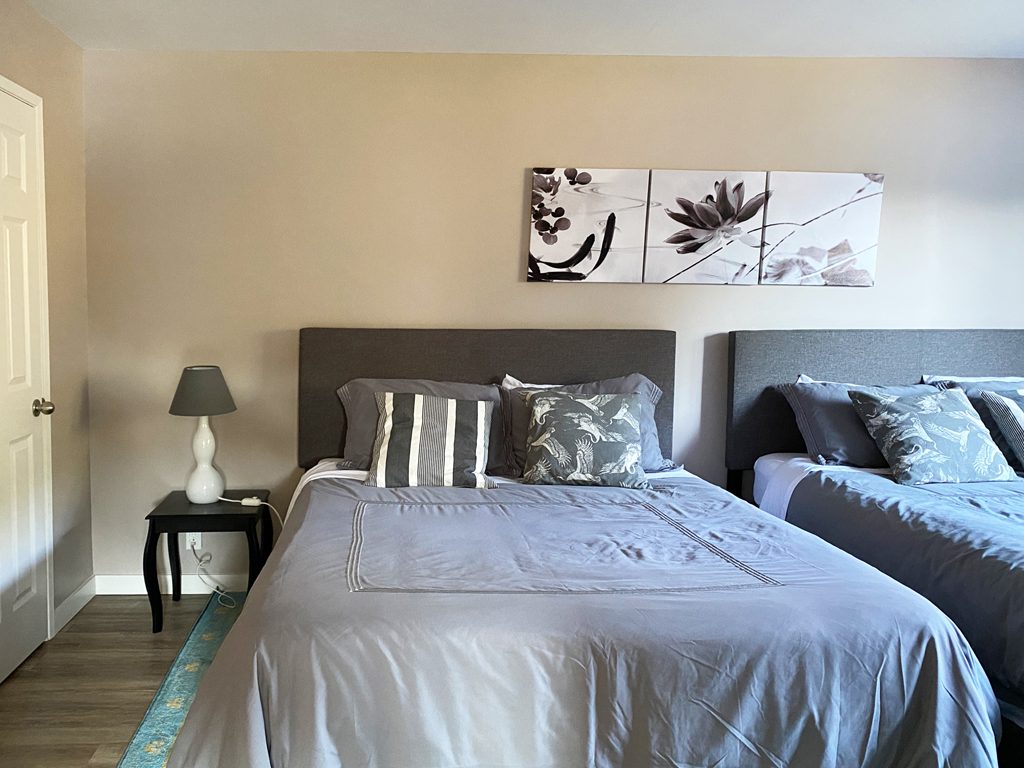 Bedroom
The spacious bedroom is furnished with two queen size beds. Sleep well under the soft duvet blankets in cozy upholstered beds.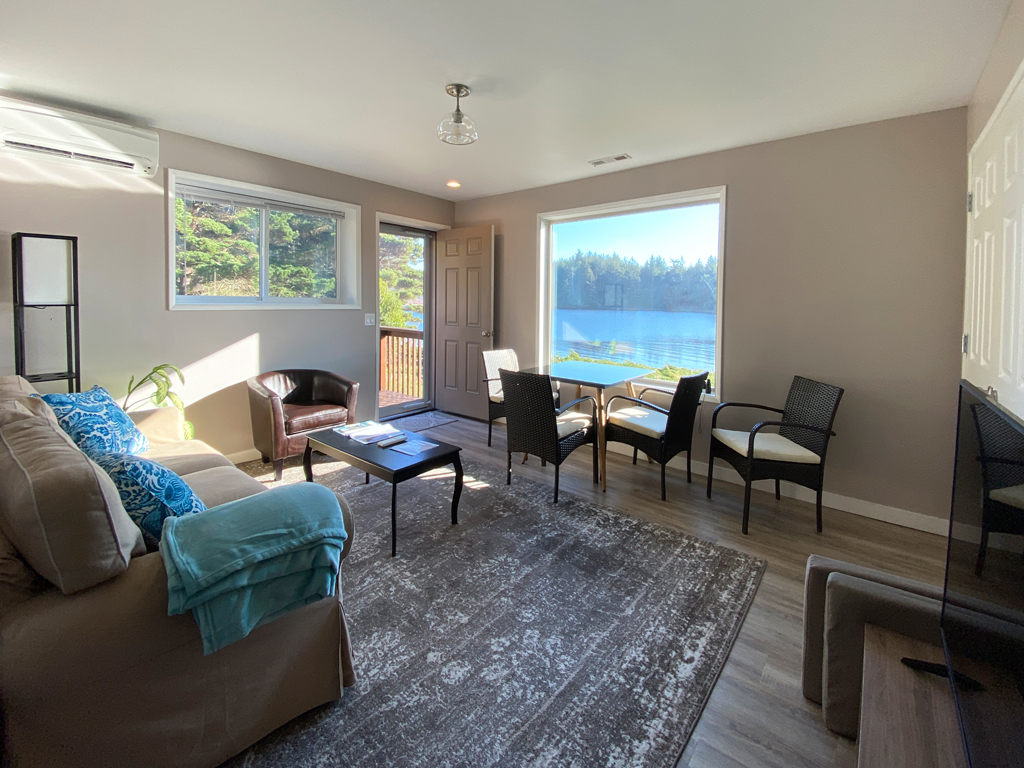 Living Room
Sit back and relax on the comfortable sofa and lounger to watch a movie at night.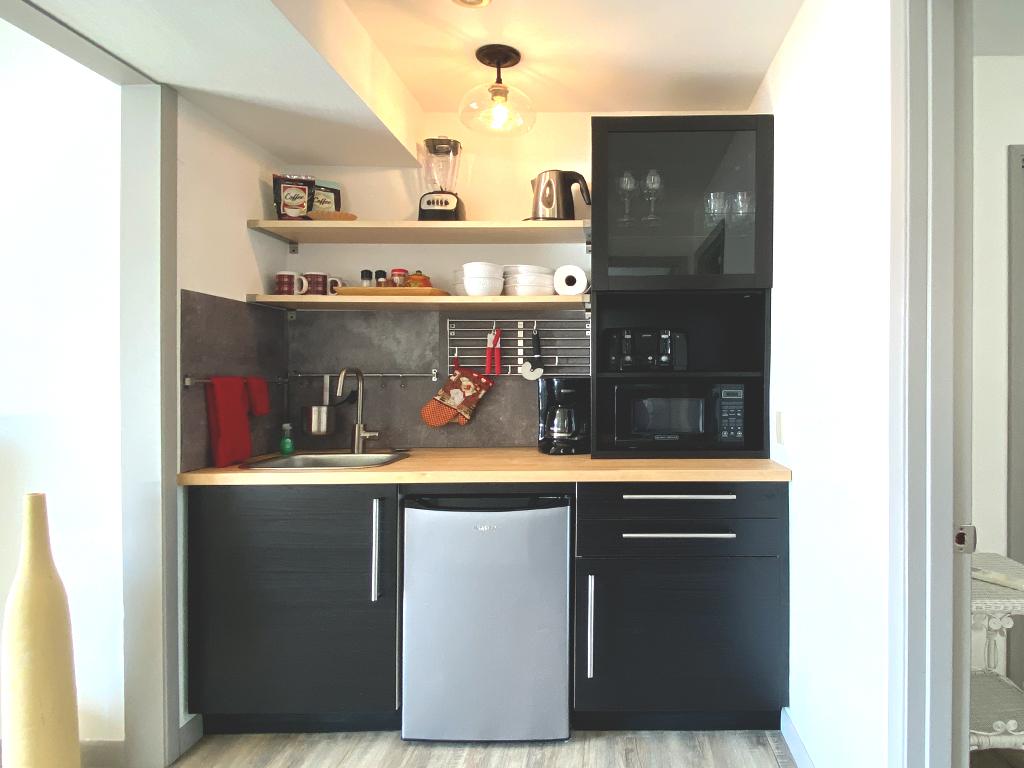 Kitchenette
Kitchenette with coffee maker, tea kettle, microwave, toaster, toaster oven, and refrigerator.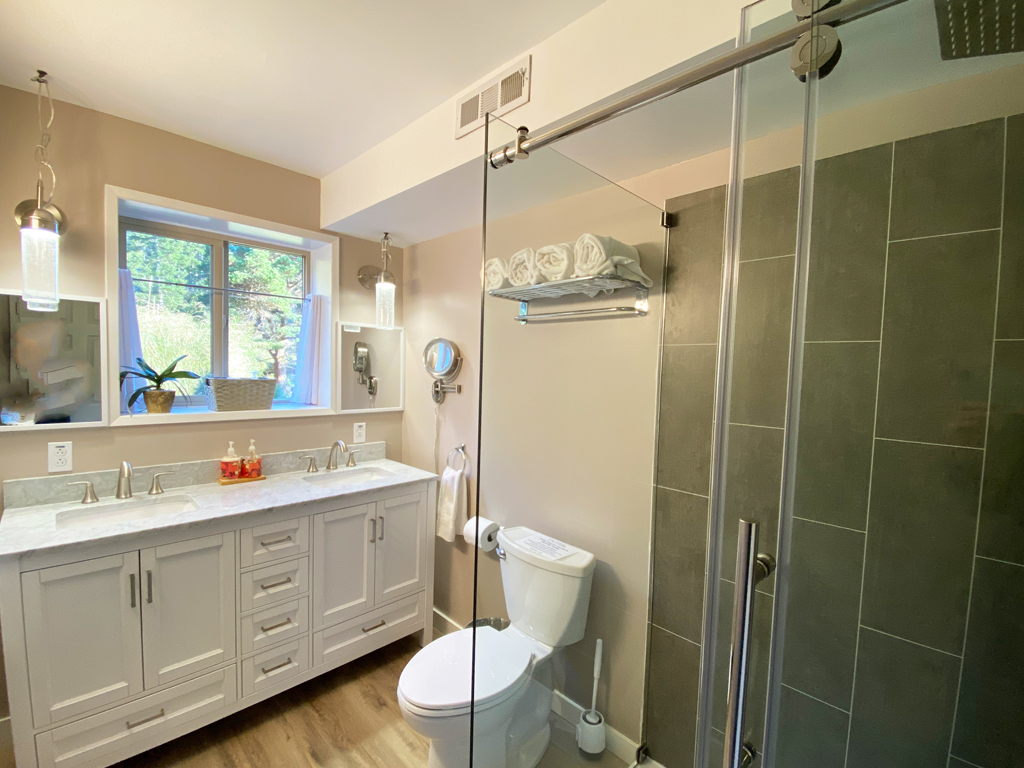 Bathroom with double sink and walk-in rainshower.
Lake view, Two Lounge Chairs with Coffee Table, outdoor chaise Loungers, Fire pit, Outdoor Decking, and 200 ft lake front to use for any fun activities.
Beautiful Mason Dishes, Fridge, Coffee machine, Toaster, Microwave, Griddle, Blender, Tea Kettle, and Toaster Oven.
Dining Table for Four, 50″ 4K Flatscreen Smart TV, Wifi, complimentary toiletries, towels & linens provided, and more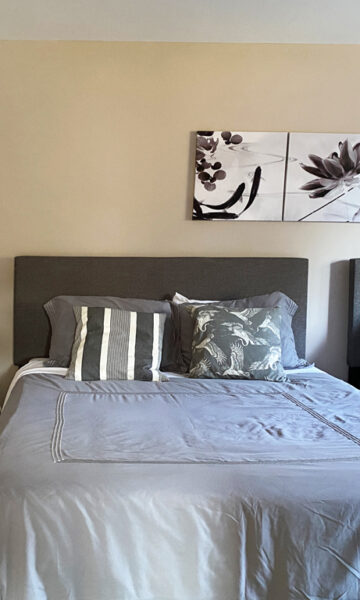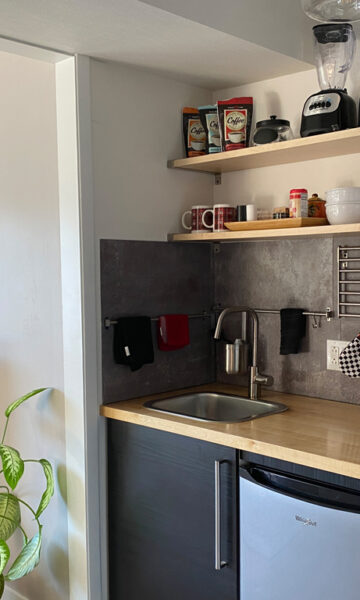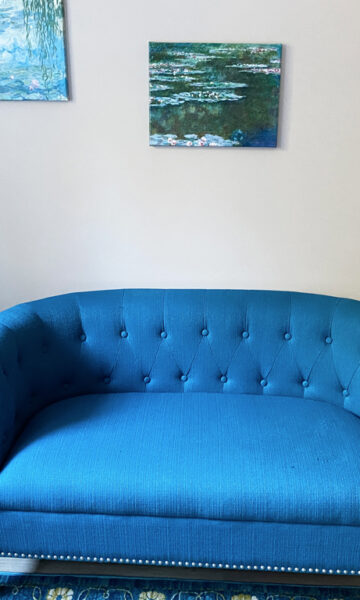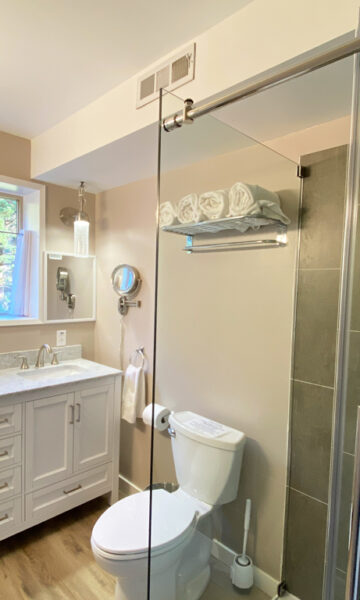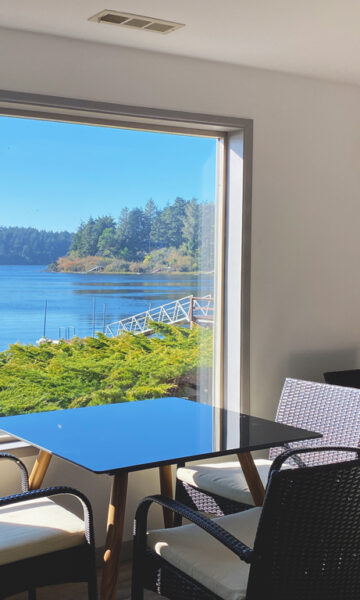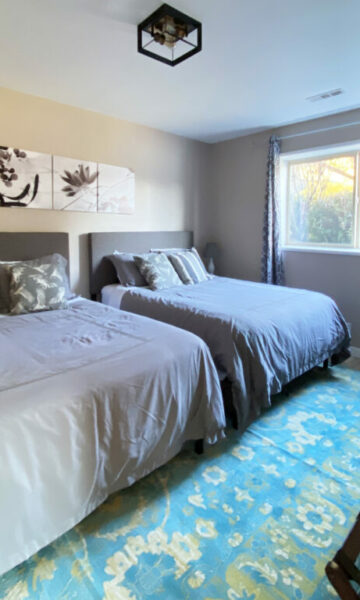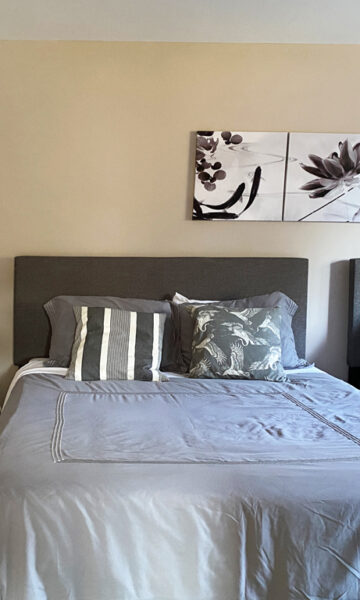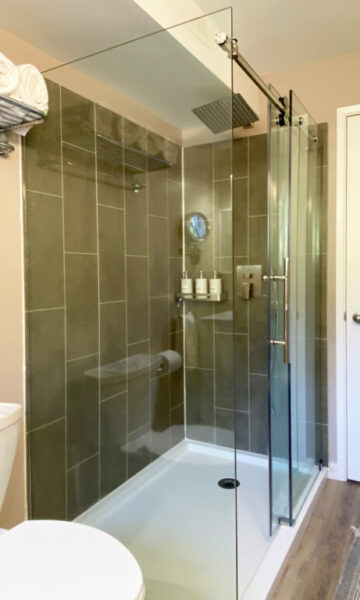 Nathan
January 2022
Awesome place. Magical lake, kayak was a great idea, went over to the beach and walked to the ocean! Very unique adventure!
Very nice, understanding, and helpful host with a beautiful location and home. Kitchen is small, but we were fully able to make any meal that didn't involve a stovetop, with some creativity! (The smoke detector is a bit sensitive, so be aware of that!) The main window that overlooks the lake does not have a curtain so it is not completely "private" but we didn't have a problem with it; it's off the beaten path and comes with an amazing view. Plenty of space to play outside, and only about a twenty minute drive from Bandon. This place has everything you could need, and we would recommend it any time!

Aerie
December 2021
Great views and very clean!
Christiane's place is amazing and serene. Will be coming back in the summer for paddle boarding!

Brian
November 2021
Beautiful place. Great view.
Great stay with a great view! The fire pit was also fun since it was a cold evening. Everything you'd expect from a basement apartment. The host gave detailed instructions for checking in and also turned up the heat for us. Would definitely come back!
Ronny
November 2021
This place is such a nice place with lake view and Christiane is very accommodating she turned up the heather for us so that when we arrived the house is warm since its cold at that night. The house welcome us with soft music that it gives you a good vibes 😀.
Lana
This is a wonderful rental that is exactly how it's described in their listing. The apartment was impeccably clean and was adorned with lots of little touches and amenities. Communication was great throughout the entire process.
We loved our short stay  a beautiful spot and perfect for experiencing and exploring both ocean and lake in this region.
The apartment is lovely. I will say that I didn't read far enough in the description to see that it's a kitchenette and not full kitchen, but we adapted. And, by all means check out the Langlois market on your way in… full of good and local food!
Amazing location especially if you are a kiteboarder, etc and want great access to Lake. Very beautiful waterfront property, fishing right off dock, great view from the apartment. Overall wonderful space and property created for guests and kid friendly.
Def pass thru again. 🙂 thanks Crystal and Christiane
The apartment has a gorgeous full picture window of Floras Lake. The place was extremely clean, spotless, it almost looked brand new. Although the kitchenette is small, it's very well stocked with appliances including a toaster oven and a griddle. Just a lot of attention to detail. If you have kids, the lake, which is crystal-clear, would be a great place for swimming.
Wonderful spot on the lake, quiet, and great views.
Liz
September 2021
Nothing beats being in a serene wind-protected setting with a lake front view yet close enough to the ocean to walk or bike. The Apartment (features 2 queen beds) offers a front seat lake view, and is comfortable and well equipped. Kayak and SUP rentals on-site are a great addition and the hosts are friendly and responsive. We will certainly be back!
Fantastic place ! Incredible view and super comfy  You're tucked away in the side of the mountain overlooking the lake. We loved every second here. The suite beyond clean,smelled amazing and everything you could need . There were so many thoughtful little touches that's made the place feel like home . The view lake honestly can't be done justice by pictures. We never wanted to leave . I would definitely recommend this to everybody.
Amazing quaint apartment right on the lake! Would def stay again, thanks.
Wonderful stay, and very responsive to our requests – including providing fishing rods for my son to use. Highly recommend and would stay there again. The location is perfect too.
Absolutely beautiful location and great host. The interior of the property was immaculate and the access to lake and nearby beach is priceless. We would love to return and stay longer.
Serenity on the lake. Fabulous spot, clean and comfortable place. Well appointed and great communication. I'd go back in a heartbeat.
View, lake access and quality of apartment were fabulous.
What a beautiful and peaceful space!!!!!
Immaculate cozy apartment on the most peaceful and idyllic lake. the hosts really take such excellent care of this property, everything was thought through with precision and kept in pristine condition. Since we were on the ground floor, we could hear some noise from the people staying above but they were quite respectful and it didn't bother us. We had a wonderful time kayaking and hanging out lakeside on the lounge chairs. hope to visit again some day.
It's really relax and comfy staying in the apartment even we had unexpected wasps problem in the garden. Very efficient communication and problem solving. Highly recommended. Hope to come back again in the future.
Great location, very clean, pictures are accurate.
Awesome lake view ,house is small but exquisite
Wonderful weekend retreat at the lakeside cabin! My best friend and I had a lovely time and slept soundly on comfy beds with soft, high quality sheets. The entire space is designed fashionably and the bathroom is appointed with all of your needed hygiene items if you happen to forget something at home. We watched a movie on Netflix and connected easily to the internet. Cell reception is spotty but stepping outside on the deck helps. We will be back soon! Waking up each morning was a treat, as the picture window in the living room with a view of the lake was breathtaking every time we saw it. 
This place was amazing! I you have a lake view with your own private deck where we got to enjoy breakfast and coffee with the amazing view! Only if we didn't have such a delay with road closure we would have spent more time! Wish we had time to rent a kayak (which u can rent from Christiane for a small fee). The place was super clean with small essential kitchen. Everything was modern and totally secluded!

Christiane was super helpful giving me tips on my road trip stops. Also because we had the road closure we didn't go forward with the kayak after she left the stuff on the deck for us. She was super understanding and accommodating. I even left something behind and she's kindly sending it back to us.

Thank you Christiane and I'll definitely be recommending this place to anyone who will be doing the Oregon coast road trip!
Christiane was great. She communicated promptly and was thoughtful as she left us champagne for our anniversary getaway.
This apartment is very well kept, very modern and simply lovely. Even on a cloudy cool Oregon day, the view of the lake is spectacular !! The local housekeeper on site is very responsive and super friendly. She met us there at check in and was there at check out. She was such a pleasant person to deal with.
Even without a full kitchen, all of our "kitchen"needs were met and we lacked for nothing.
Great location, we had a fun time at Christiane's place. The house was very clean, everything was as advertised. We had rented a kayak and my daughter had fun kayaking at the lake. We went to the nearby beach and drove to Bandon. Very peaceful and calm location. There were no others around, so we had the dock to ourselves during our stay. It was very nice sitting out in the sun and reading 🙂
Paradise with a view! Loved the location and the apartment was perfect. We kayaked every day and went on several hikes that were just a short drive away. Check-in could not have been easier and everything worked perfectly. Wife called it her best birthday trip ever and we will be back.
Great place. Beautiful setting. Very clean. Lots of laminated instructions. Probably keeping Kinko's in business!
We had one wonderful night in Langlois and were thankful we spent it at Christiane's apartment on the lake. The panoramic view of the lake is a highlight…you can't beat the setting. Easy to see wanting to spend a week here with family!
Wait a gorgeous location. We cannot wait to come back. Working from the table and looking out on the lake was such a treat.
A lovely getaway on a peaceful and quite lake. The Airbnb itself was really very cozy and clean. Would highly recommend to friends.
This is a magical setting. You wake up and look at the lake with reflection of clouds and trees, fish jumping, geese swimming …..even saw some hatchlings. As others have said peaceful. Logistically , Comfy beds, mini kitchen with what you need, Toaster oven, microwave and small fridge, utensils, coffee etc. My hubby really relaxed, unusual.
Although our stay was short, we really enjoyed staying at this airbnb. Everything was as pictured, including the view! The place was clean, well decorated and included all the amenities we needed. The hosts were also easily reachable and super nice. This was a perfect stay for our long drive back home.
Outstanding accommodations, right on the water. If you value a quiet, pristine stay, this is the place for you. The space was super well-done, with everything we needed for a very comfortable stay. The bed was very comfortable, the nature was incredible and you cannot beat the view of the lake. Book it!